Truck and Trailer Repair
Truck and Trailer Repair and Maintenance Services
Truck and trailer repair
Computer diagnostics for trucks
Filling truck air conditioners
Truck maintenance
Repair of trailers and semi-trailers
Truck tires
Breakdown assistance
Truck and trailer repair

Computer diagnostics for trucks

Filling truck air conditioners

Truck maintenance

Repair of trailers and semi-trailers

Truck tires

Breakdown assistance
Interested in our services?
High-quality truck repair is extremely important. Whether it's a simple breakdown, a preventative check or a complex repair, the TRELO team is here to help.
Join the TRELO team
TRELO is seeking repair technicians, auto electricians, work managers, and other professionals. We prioritize excellent working conditions, continuous skill enhancement, and value sincerity, a strong professional background, language proficiency, and teamwork. If you're eager to thrive in a dynamic, positive environment and be part of a driven team, join us!
Karolis Giga (Head of Procurment and Logistics, 7 years)

It is interesting to work here, because the company does not stop growing, and as a matter of fact, the growth process does not allow standing still, it forces you to move forward, grow and improve. I am most motivated here by the team I have as a manager - when working with such people, you simply cannot afford to be unmotivated.

Eugenijus Petraška (Supplier, 2 years)

TRELO is a forward-looking company. I made the right choice by becoming its member. Here, I am motivated by the daily challenges that prevent my brain from being cut off. I want to contribute to the company's growth and prosperity as much as possible. It is also very motivating to work on cadences, which gives you the opportunity to travel in your free time and many other smaller bonuses.

Paulius Stravinskas (Head of HR and Communication, 3 years)

Working at TRELO is working for YOURSELF - you are the master of your working time. While working here, you constantly improved and grew together with the whole team and the company. What motivates me the most is freedom and the fact that the work and effort you put in is fully appreciated. TRELO can really boast of the right attitude towards employees.

Nikas Paulauskas (Supply manager, 4 years)

Working at TRELO means being part of and contributing to a constantly growing and progressive company that makes Lithuania famous 🇱🇹 I am motivated here by the appreciation of work and effort 😎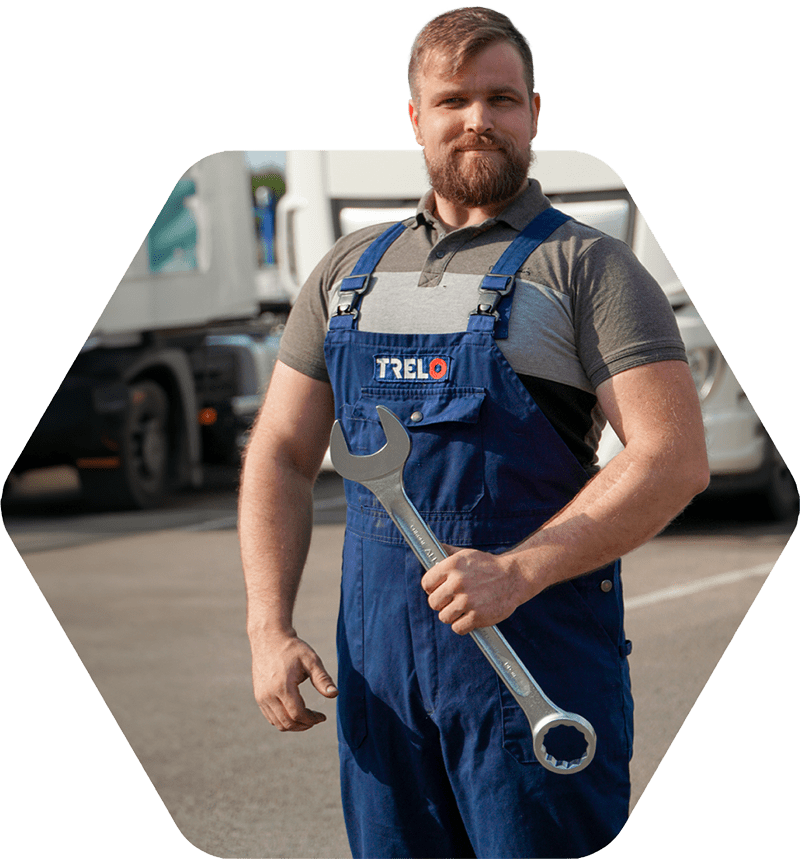 The job satisfaction rate is 8.23 out of 10
Contacts
Contact us for all your truck and trailer repair questions. Below you will find contacts of TRELO services in Belgium, Germany, France and Lithuania.
13 years of experience
About TRELO
Since 2010, Trelo has been offering its customers truck and trailer repair services and providing technical assistance to carriers on the road. Our range of services is extremely wide: computer diagnostics, wheel geometry adjustment, tire installation and balancing, complete vehicle preparation for technical inspection. Trelo specialists are ready to eliminate all breakdowns for tractors and trailers of various manufacturers both in their repair centers and on the road.
Honesty and reliability - job list and prices are provided before repairs begin
Repair centers in convenient locations for carriers
Repair works for trucks and trailers of all manufacturers
Short repair time because we have a large stock of parts in our warehouse
Multilingual service in all repair centers
Service at the best possible price
Breakdown assistance on road